Gion - Famous Geisha Quarters
---
Gion is the most famous of the four geisha sections of Kyoto - this is the one featured in the book "Memoirs of a Geisha." Naturally I had to go there. Again, the main temple of Gion.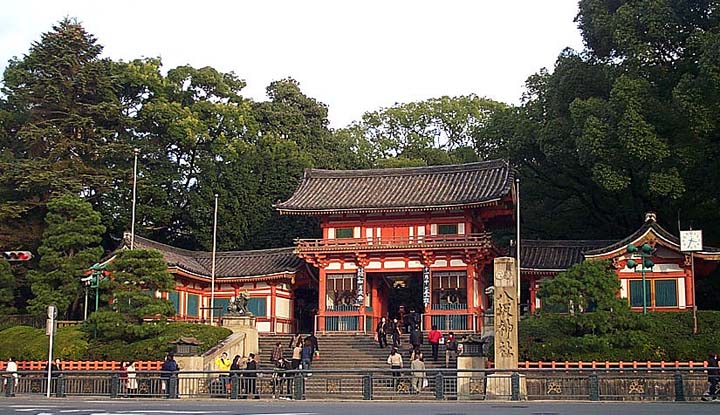 Gion has two main sections - a big and very crowded shopping area along Shijo-Dori street that is north and west of the Kamo River, and old Gion, on the east side of the river. This is the Kamo River, looking south - Gion is on the left, essentially between here and the 2nd bridge. Many festivals were held here in summer when the river was dry - including erotic dancers on a stage here starting in 1607 - this became Kabuki.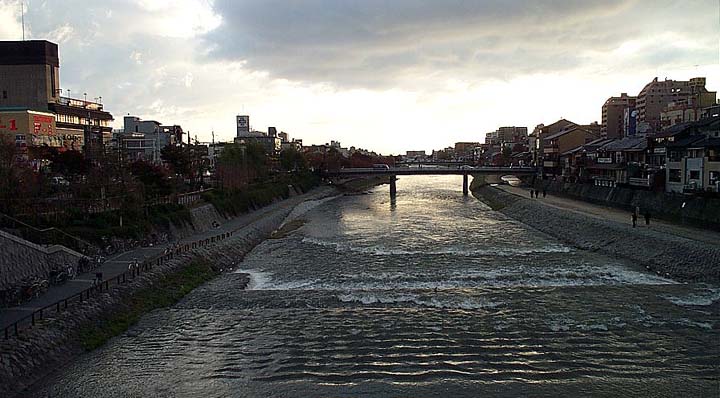 This is Hanamikoji-Dori, the main shopping and restaurant street in old Gion, where there are many good places to eat and hang out - the name means Flower Viewing street, since Geisha areas are called flower towns. Other than this street, it's a rabbit warren of back alleys, tea houses, and small shrines that only a geisha and her customers could love. Sadly, the area and geisha population has declined over the years, for this entire area used be the entertainment capital for the most powerful men in Japan and housed 1,000 geisha.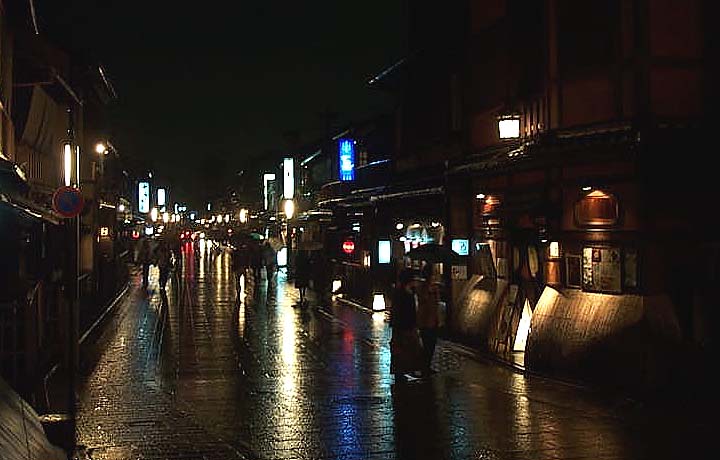 One of the tiny neighborhood temples.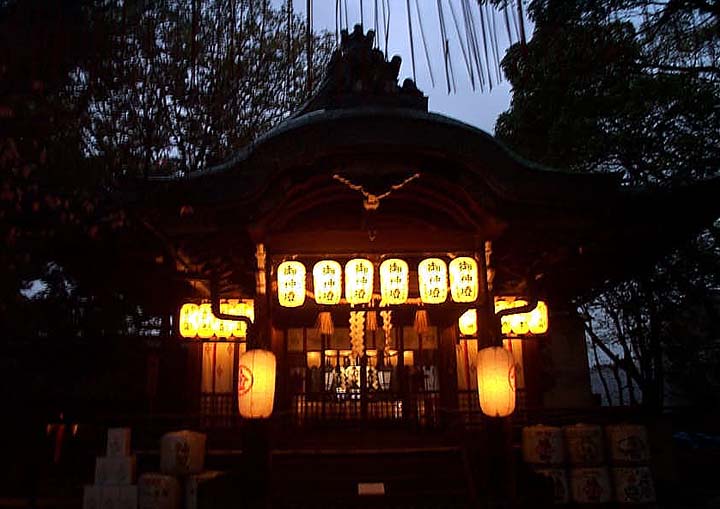 A dark alley full of tea houses, which are identified by round lanterns.
Tthis is the main teahouse and thus Geisha street in Gion.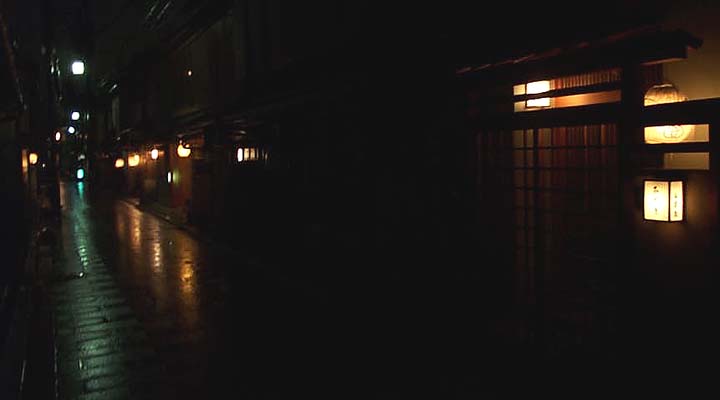 Teahouses display the name blocks of geisha present this evening.
Geisha move between houses all evening, so the blocks indicate who is where.
Note the shared last names (top Chinese character in black) between a geisha and her apprentice, a maiko.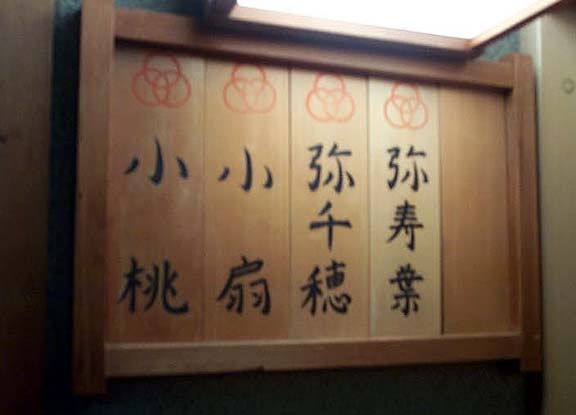 A geisha and maiko walking down the street - shot from behind them; it was raining hard and they were in quite a hurry - time is money in their (and my) world.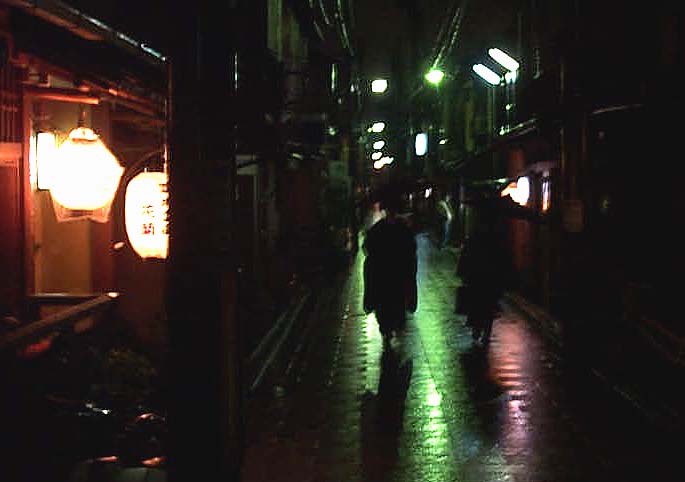 I was able to stop this pretty Maiko for a picture. She was in a hurry and I misunderstood her Japanese, which lead to a moment of confusion - I asked "Shashin ga toremasuka (can I take a picture)" and she said "Ichi Mai (one picture)" which I heard as Ichi Man (10,000 yen), so I was confused and thought she wanted me to pay her; she then said something like "Jikan ga nai, hayaku (no time, in a hurry)", and then "One Shot" which I understood and took this picture. So, my first Geisha encounter in Japanese was not ideal, but I did get a good picture. BTW, this is a maiko, as you can tell from her white collar, white face, and long sleeves.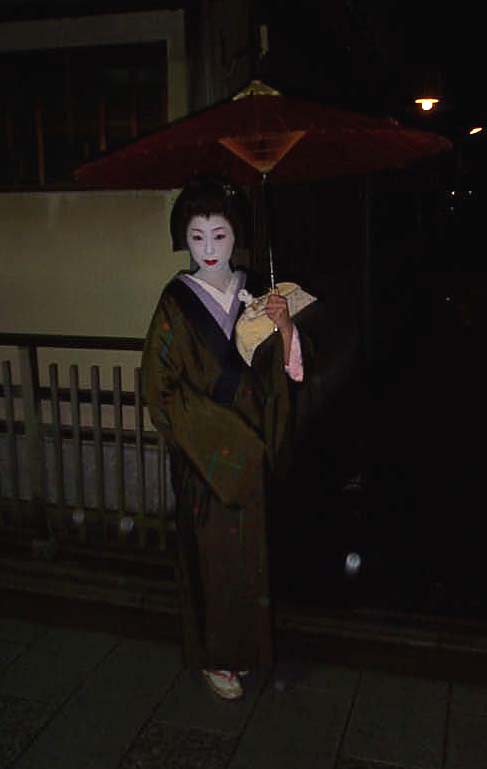 Another tea house with name boards - the name reads as Tafusa.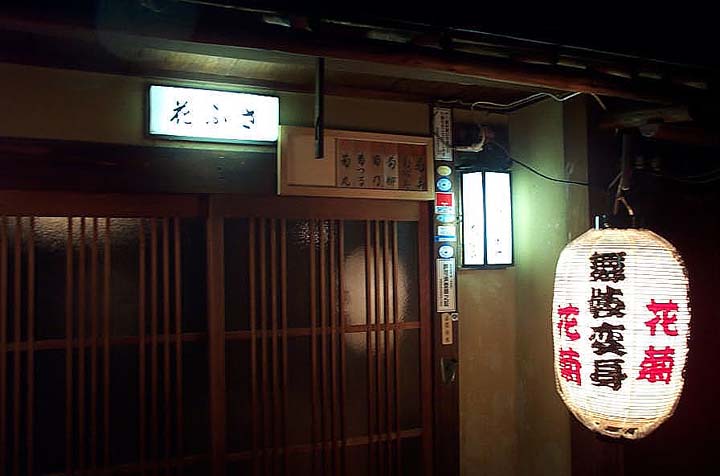 Another tea house - these are not elegant places, as you can see.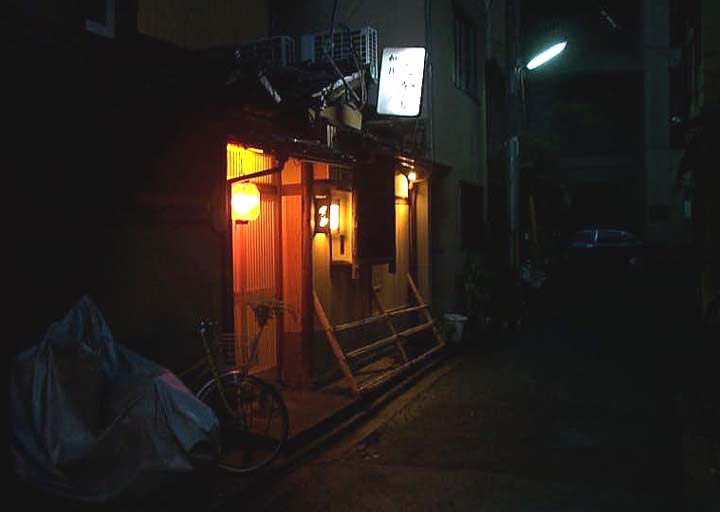 Another view of the Kamo River, looking North. The area on the left is Pontocho, another famous Geisha disrict. An American, Liza Dalby, worked here as a geisha in the 1970s.

A real alley, with 2-3 tea houses - needless to say, you don't just wander down there and knock - it's all about who you know.